Adventure holiday in the Carpathian Mountains: boat-rides down the Dniester, rafting down the Opir, the Stryi, the Cheremosh and the Tysa, speleological tours, corporate parties, cycling tours, excursions from Lviv
Especially for our clients we have selected the most experienced instructors in water sports, mountain-climbers, speleologists, who have been specially trained to work with groups of tourists. Having priceless experience, we will make your holidays unforgettable.
Our main principle is your safety. Choosing instructors we selected only tested and proven people who make adequate decisions in most critical situations. Also, we'll insure you from accidents in one of insurance companies.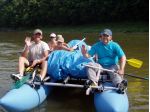 Our goal is to create friendly atmosphere of team competition, this will guarantee unforgettable impression not only of what you see, but also of victory.
Our main advantage is organizing white-water rafting as well as quiet boat-rides down the Dniester, and corporate parties. Our company is easily reached from Lviv, Morshyn, Truskavetc, Slavsk. In addition, we organize regular trips along the longest cave in Eurasia – Optymistychna. Our winter and summer hikes in the Carpathians are also worth trying.
Have a lot of unforgettable experiences!
NEWS:
- Accommodation in the Carpathians - cooperation with hotels
- Live communication in the new section Forum
- Unforgettable winter hikes in the Carpathians
- Great number of excursions and skiing tours combined
- Interesting trips to the Optymistychna cave in Ternopil region
- Want 45%discount? Register for reserve
- The school of instructor skills is open


Activity


Route Price, $

| | |
| --- | --- |
| r. Opir (Skole - Verhnye Synyovydne 15 êì) | 20 |
| r. Stryi (Urych - Verhnye Synyovydne, 20km) | 30 |
| r. Stryi (Verhnye Synyovydne - Rozhirche,15km) | 20 |
| r. Stryi (Verhnye Synyovydne - Hirne,25km) | 35 |
| r. Opir, Stryi (Skole - Rozhirche, 30 km) | 35 |
| r. Opir (Slavsko - Verhnye Sinyovidne ,40km) | 40 |
| r. Stryi (Urych - Rozhirche, 30 km) | 40 |
| r. Svicha and Mizunka | 40 |
| r. Chornyi Cheremosh (Ilci - Krasnyk, 20 km) | 40 |
| r. Prut (Yaremcha - Delyatyn, 15 km) | 35 |
| r. Tisa (Yasynya - Rakhiv, 30 km) | 50 |


Lowland river rafting
(2 or more days)

| | |
| --- | --- |
| r. Opir, Stryi (Skole - Stryy, 45 km) | 60 |
| r. Opir, Stryi (Skole- Gydachiv, 80 km) | 75 |
| r. Dniester (Rozvadiv - Gydachiv, 45 km) | 50 |
| r. Stryi, Dniester (to Guravno, 100 km) | 85 |
| r. Dniester (Rozvadiv - Halych, 100 km) | 110 |
| r. Dniester - super rafting (to Khotyn) | 250 |
| r. Tysa (Tyachiv - Khust - Vylok, 65 km) | 100 |

Hiking
(trekking)

Parashka, Lviv region, 1268 m. - 1 day
20
Pikuy, Lviv region, 1408 m. - 1 day
25
Velykyy Verkh, Zakarpattya reg.,1598 m. - 1 day
30
Khomyak, Ivano-Frankivsk reg., 1542 m.- 1 day
35
Hoverla, Ivano-Frankivsk reg., 2061 m.- 1 day
40
Pip Ivan, Ivano-Frankivsk reg., 2022 m.- 1 day
45
T

wo-day

Chornogora

Ridge

hiking

65
T

wo-day

Horhany

Ridge

hiking

60
T

hree-day

Borgava

Ridge

hiking

80

Multi-day

trips,

per day

20

Rock-climbing

10

Speleological tours
(caving)

| | |
| --- | --- |
| Cave Klyuch - Skole | 35 |
| Cave Mlynky - Chortkiv | 40 |
| Cave Optymistychna - Korolivka | 60 |
| Cave Dgurynska - Nahoryany | 40 |
| Cave Kryshtaleva - Kryvche | 45 |
| Cave Ozerna - Strilkivtsi | 50 |
| Cave Verteba - Bilche | 45 |
| Cave Stradchanska - Stradch | 10 |

Combined tours

All Carpathian Mountains in a week! 400
Corporate tours and groups

Corporate activities